Over 4 million people stood up to demand real action on climate an end to the age of fossil fuels – and it's only the beginning. Actions are planned in more locations around the world this week.
Enjoy these highlights from Asia and the Pacific.
If you want more, follow our live coverage with the latest updates — it'll be rolling all week as we make history together.
Strike Highlights
Pacific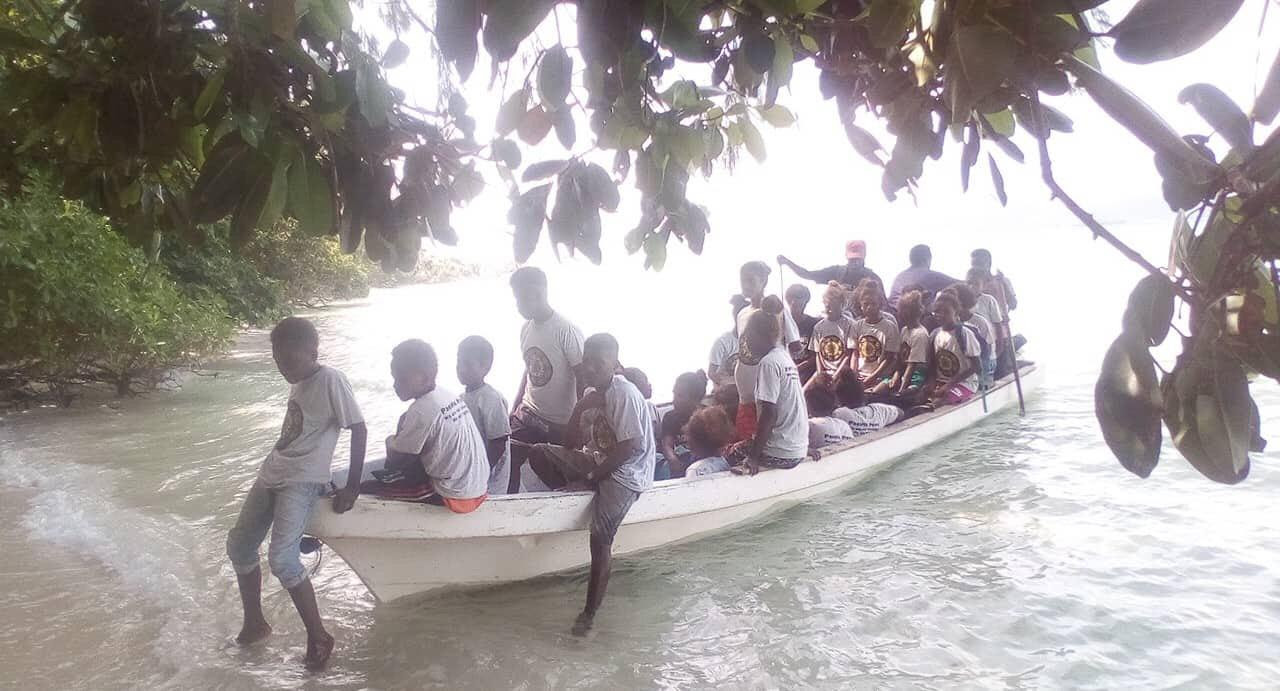 Riding the waves of change, youth from the Solomon Islands arrived in boats ready for their Matagi Mālohi event. Photo from 350 Solomon Islands.
The Solomon Islands kicked off the day, with protestors rowing to shore in Marovo to perform a traditional warrior dance. "We stand in solidarity with the global community of strikers by sharing our frontline truths in a way that resonates with Pacific Island people — through music, folklore, art, and storytelling." Over 30 events rolled on across the Pacific.
Australia
Photo from Twitter account @luckytran.
With record-breaking turnouts in Melbourne and Sydney, over 400,000 people turned up across the country for more than 100 events — and numbers could tick higher overnight as more reports come in. In Sydney, major roads in the city center were shut down. About 380 ship dock workers walked off the job in Hutchinson Port, according to the Maritime Workers Union.
Asia
An acoustic performance in front of Monas in Jakarta by one of the youth strikers. Photo from 350 Indonesia.
Despite alarming news that some organizer offices were raided on the eve of the strike in the Philippines, protestors carried on: 60 indigenous youth from different villages in Bukidnon, Philippines, gathering for a summit on climate action, while 500+ students, activists, and workers participated in the #ClimateStrike in Quezon City, Metro Manila, forming a human banner carrying an important message telling the world that 'there is no planet B'.

In Japan, the youth-led climate strikes happened in 23 prefectures, with over 5,000 demonstrators amassing in the streets demanding climate action. (Read the press release in Japanese). In Indonesia, more than 1,000 people from youth communities marched for 1.5 kilometers to support the climate strike in Indonesia, along with parents and workers who answered the children's call to strike in #JedaUntukIklim.
One to Watch
'This is just the beginning!' The climate strikes in the Pacific were a success, with over 2,000 Pacific Islanders showing up at events across the region.
Digital Strike
At last count, over 3,000 companies have taken part in different ways — some by shutting their doors, others by giving staff the day off. More than 7,350 websites are now part of the Digital Climate Strike, either shutting down for the day or directing people to follow the global strike online.
Use Your Voice
Make sure the world knows about your strike. Send us your photos and videos from today and strikes throughout the week using this easy portal.
And keep your eyes out tomorrow for a wrap-up of  the full day of action, so you can share it far and wide to make our calls even louder.
We need decision-makers at the United Nations Climate Action Summit on 23 September to understand what we expect: bold climate action with climate justice at its heart — and an end to the age of fossil fuels.

---
P.S. If you're not signed up for regular global updates yet, subscribe to Fossil Free News.